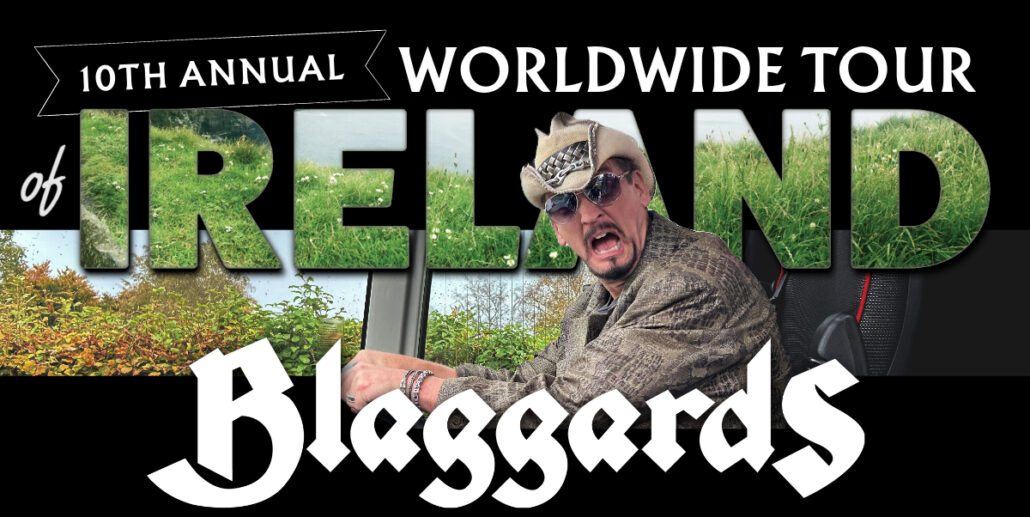 2024 will be our TENTH ANNUAL trip to Ireland! For the first time ever, we'll be doing TWO tours back-to-back: one week going NORTH, and a second week heading SOUTH.
North: Sep 22 – Sep 30: €2,210.00
South: Sep 28 – Oct 6: €2,220.00
Both booked together: €3,660.00
Based on double occupancy accommodation.
€500 non refundable deposit due at booking, with the remaining balance due 60 days prior to the trip.
We advise that all guests purchase trip insurance for added protection.
Airfare is not included but we ask when booking to arrive in Dublin by 10:00 AM.
The price quoted includes all hotels, luxury ground transport, tour guide, scheduled excursions, entertainment by Blaggards, 1 group dinner and round the clock concierge service provided by DOC's Irish Tours.
Venues for Blaggards gigs are currently tentative and may change.
To book your trip or if you have any questions, email email hidden; JavaScript is required or call DOC's Irish Tours at (863) 500-4485.
TOUR LEG 1: NORTH
Sunday, September 22 — Dublin → Belfast
Guests will arrive in Dublin Airport
Guests will be greeted by their driver & guide in the arrival hall
Board a luxury bus and drive north to Belfast City
Upon arrival in Belfast, the group will check into The Belfast Hilton
Next up will be a visit to the Titanic museum
Guests can enjoy an evening of leisure exploring Belfast City
Monday, September 23 — Donegal
Breakfast in the hotel restaurant, prior to check out
Group will set for the Causeway Coast and visit Giant's Causeway
Visit Dunluce Castle which featured in Game of thrones
Continue west to Donegal Town and check into The Abbey hotel
Blaggards will perform in The Central Hotel (TBC)
Tuesday, September 24 — Donegal
Breakfast in the hotel restaurant
Group will be driven to Burtonport to take a ferry to Aranmore
Spend the day exploring the island before returning to the mainland
Visit Leo's tavern and take in a local trad session and a group dinner
Overnight again in the Abbey Hotel
Wednesday, September 25 — Westport
Breakfast in the hotel restaurant prior to check out
Group will depart Donegal for Westport, Co. Mayo
Take in a tour around Ben Bulben Loop in Sligo with some optional hiking
Upon arrival in Westport, the group will check into the Castlecourt Hotel in the town center
Blaggards will perform a gig in Matt Molloy's pub in Westport (TBC)
Thursday, September 26 — Galway
Breakfast in the hotel restaurant prior to check out
Group will visit Achill Island this morning with optional bike tours, cycling tours or horseback riding
The group will then head for Galway with a stop in Cong which is best known as the film site of The Quiet Man
Upon arrival in Galway City, the group will check into the Nox hotel
Blaggards will perform at An Pucan tonight (TBC)
Friday, September 27 — Galway
Breakfast in the hotel restaurant
Guests will take a day trip to The Cliffs of Moher and the Burren National Park
Return to Galway for fun night of bar hopping and exploring this beautiful city
Saturday, September 28 — Dublin
Breakfast in the hotel prior to check out
Group will be driven to Dublin City
Upon arrival in Dublin, the group will visit Dublin Castle and the Guinness Storehouse
Check into The Clarence Hotel in Dublin City center
Sunday, September 29 — Dublin
Breakfast in the hotel restaurant
Guests will set off on a city tour including a visit to Trinity College and Teeling's distillery
Check into The Clarence Hotel in Dublin City center
Blaggards will perform a huge gig in Whealan's pub (TBC)
Monday, September 30 – Dublin → HOME
Breakfast in the hotel prior to check out
Guests who will be flying home following the 1st leg of the trip will be driven to Dublin Airport
TOUR LEG 2: SOUTH
Saturday, September 28 — Dublin
Group will arrive in Dublin Airport
Group will be greeted by their driver and guide in the arrival hall
Board a luxury tour bus and drive to Dublin City where you will meet up with the group from the week prior
Visit Dublin Castle and the Guinness Storehouse
Check into The Clarence Hotel in the city center
Sunday, September 29 — Dublin
Breakfast in the hotel restaurant
Guests will set off on a city tour including a visit to Trinity College and Teeling's distillery
Check into The Clarence Hotel in Dublin City center
Blaggards will perform a huge gig at Whelan's Pub (TBC)
Monday, September 30 — Bray
Breakfast in the hotel restaurant prior to check out
Group will drive to Wicklow for some scenic touring in the Wicklow Mountains followed by a visit to Glendalough
Next up the group will be driven to the beautiful seaside town of Bray
Check into the Royal Hotel
Blaggards will perform a gig in Bray (TBC)
Tuesday, October 1 — Cork
Breakfast in the hotel restaurant prior to check out
Group will be driven south to Cork City
Visit the Blarney Castle & Folk Park
Check into the infamous Metropole Hotel in the city center
Blaggards will perform in The Old Oak tonight (TBC)
Wednesday, October 2 — Killarney
Breakfast in the hotel restaurant prior to check out
Group will be driven to Killarney, Co. Kerry
Visit Torc Waterfall and Muckross House
Check into The Plaza Hotel in the town center
Group dinner in Killarney tonight (TBC)
Thursday, October 3 — Killarney
Breakfast in the hotel restaurant
Group will set off on a day trip around the Ring of Kerry which is renowned as Ireland's most scenic drive
Return to Killarney and see Blaggards perform in the town (TBC)
Friday, October 4 — Galway
Breakfast in the hotel restaurant prior to check out
Group will depart Killarney bound for Galway City
Visit the Cliffs of Moher on route
Upon arrival in Galway, the group will check into The Nox Hotel
Blaggards will perform at An Pucan tonight (TBC)
Saturday, October 5 — Kinnity
Breakfast in the hotel restaurant prior to check out
Group will be driven to Kinnitty in Co. Offaly
Check into Kinnitty Castle where the group can enjoy a whole host onsite activities this afternoon
Blaggards will perform tonight in the Dungeon bar in the castle
Sunday, October 6 — Kinniity → Dublin → HOME
Breakfast in the hotel restaurant prior to check out
Group will be driven to Dublin Airport to catch a flight home
To book your trip or if you have any questions, email email hidden; JavaScript is required or call DOC's Irish Tours at (863) 500-4485.